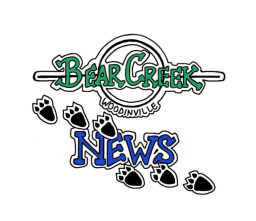 Upcoming Dates:

1/14 Chess Club, 4:00pm - 5:20pm
1/15 Early Release Wednesday, 2:20pm
1/16 Foreign Language Classes, 3:55pm - 4:55pm
1/17 Chorus Practice, 3:50pm - 4:30pm
1/20 No School - Martin Luther King Day
1/21 Chess Club, 4:00pm - 5:20pm
1/22 Early Release Wednesday, 2:20pm
1/23 Foreign Language Classes, 3:55pm - 4:55pm
1/24 Chorus Practice, 3:50pm - 4:30pm
PTA Taste of Bear Creek, 6:00pm - 8:00pm


Student Drop-off/Pick-up Reminders:
We have been experiencing a large number of students being dropped off at school too early. For the safety of your children, unsupervised students are not allowed on campus prior to 8:50am. Please do not drop your student off at car drop off if there is no adult present. When dropping off, please use the loop in the back lot to turn around.
Also, If your student is arriving after 9:20am, please drop them off in the front loop near the office and have them check in to get a late pass. This avoids them being marked absent and you receiving a worrisome absence phone call. Thank you!


After School Programs and Inclement Weather:
Should inclement weather occur during the school day, Bear Creek will err on the side of caution when it comes to our after-school programs. We will announce cancellations of after school programs by 2:30pm, when possible, via email, text, and calls home. If programs are cancelled, students will take their regular transportation home. It is wise to have a plan B for pick-up on every school day, including days with after-school programs.
For district wide cancellations, the district will contact families and staff using one or more of the following options: phone call, text message, email and/or push notification. In addition, the district will provide emergency information via web postings, recorded information lines and social media postings. Early morning notifications will be sent as early as 6 a.m., if possible.
Notifications will only work if your contact information is current in the student records system. Please let us know or use ParentVUE to make updates.


Martin Luther King Assembly (REVISED DATE):


An assembly honoring the life and work of Martin Luther King Jr. will be held on Thursday, January 30th at 10:00am. This assembly is hosted by our 4th grade students. Parents and the community are invited!


PTA Information:

LAST CHANCE - Winter After School Enrichment Class:
Register NOW for Real World Robotics Enrichment Class!
This is for grades 2 - 5, students will create robotic models inspired by real life robotic technologies. Students will learn about gear ratio, sensors, simple machines, and programming as they build alarm devices, earthquake detectors, robotic arms, and much more. Your student will have a blast exploring the world of robotic technologies as they build, learn, and play.
Class starts on January 17th.
To register or learn more about the class: http://bearcreekpta.org/Page/Enrichment/WinterEnrichment2020


Reflections Program Invitation:
Northshore Council PTSA invites you to join us in celebrating our amazing student artists who participated in this year's Reflections program. More than 350 pieces by students from across Northshore will be featured and on display Saturday, Jan. 11 from 2:30 to 5 p.m. at the Leota Middle School Cafeteria, 19301 168th Ave NE, Woodinville, WA 98072.
Any artists needing a quieter environment to look at art may arrive early for a quiet viewing time from 2 to 2:30 p.m.
We hope you will join us in celebrating the work of our amazing student artists!
**Note: updated location — Leota Middle School Cafeteria.


TASTE OF BEAR CREEK:

The 6th annual International Taste of Bear Creek is on Friday January 24th from 6:30-8:00 pm in the gym. Our Bear Creek students and their families are invited to get together to share food and celebrate our wonderful culturally diverse community.
To make this event a success we are in need of VOLUNTEERS to host a food table. This involves preparing and bringing to the school food from your country/region of U.S. to share, with the quantity of approximately 100 "tastes" (like Costco sized). This could be any type of savory food, dessert or drink. We have seen so many yummy possibilities over the past 5 years. The PTA provides the serving plates, forks, etc.
Please email if you would like to host a table or with any questions to caedin@yahoo.com
Thanks for helping!