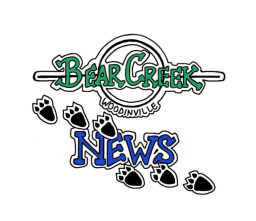 Upcoming Dates:

2/10 Math Olympiad, 3:55 - 4:45pm
2/11 Chess Club, 4:00pm - 5:20pm
2/12 Early Release Wednesday, 2:20pm
2/13 Foreign Language Classes, 3:55pm - 4:55pm
2/14 Chorus Practice, 3:50pm - 4:30pm
Closed for Mid-Winter Break 2/17 - 2/21

2020 Bear Creek Elementary Track and Field:
Take your mark, get set, go! Our 2020 Track and Field season for students in grades 3-5 begins this April, following spring break. Our practices will be on Mondays & Tuesdays from 3:50 - 4:50. At dismissal, students should report to the gym. After practice, students will be picked up at the parent pickup area.
Our Practice dates are: 4/13, 4/14, 4/20, 4/21, 4/27, 5/4, 5/11, and 5/18. Our meet dates are: 4/28, 5/5, 5/12 (Home Meet @Cottage Lake Elementary), 5/19 (Junior Olympics @ Woodinville HS). Parents are responsible for transportation to and from meets, and must stay at the meets.
The participation fee is $35 per student. Those who qualify for free and reduced priced lunch may request a partial scholarship. Please register online at https://schoolsales.nsd.org. The school, coaches or office staff will not handle registration and/or payment.
Information on elementary sports, including meet schedules and how to pay the registration fee, is available on the district website at http://nsd.schoolwires.net/Page/6977 or contact the school district receptionist at 425-408-6000.

Global Reading Challenge:

Congratulations to the Winning Watermelons (Jacob H., Sammy E., Ananya G., Shrita P., Manavi S., Srianshi S.) who will represent Bear Creek in the District Finals of the Global Reading Challenge on March 5th at Kenmore Elementary.
Both of our teams worked very hard and only 2 questions out of 24 separated the two teams! Way to go Bear Creek Readers!

Parents Night at the Middle Schools:
Leota Middle School 5th Grade Parent Night:
Leota will host a Parent Preview Night on February 26 for all parents of current 5th graders slated to feed to Leota. Our preview night is designed to help parents better understand the middle school setting and to make informed decisions about our course offerings. The night will run from 6:30-8:00 p.m., with optional pre-sessions beginning at 6:00. Our opening ceremony will begin promptly at 6:30 p.m. in the gym with opening remarks along with details about the evening. Spanish translation will be available.
Please plan ahead for parking as it often bottlenecks getting into Leota and the main stoplight on Woodinville-Duvall Road can often cause delays. We have three parking lots available (in front of the school along 168th Avenue NE, to the north of the school along NE 195th Street, and behind the school near the track). Additionally, we will have our overflow parking open along 168th Avenue NE, closer to Woodinville-Duvall Road to the south of the school.
Canyon Park Middle School Incoming 6th Grade Parent Night
Wednesday March 18th.
7-9 PM in the main gym
AAP parent info meeting 6:30-6:50 in the little theater
IEP parent info meeting 6:30-6:50 in the library
We will share information we receive from other Middle Schools, Timbercrest and Skyview, as we get it.
Paying for Meals and Checking Your Students account:
You can pay for meals online using PayPams. The PayPAMS.com program accepts VISA (credit/debit), MasterCard and Discover cards. If a parent pays for multiple students at once, they will only be charged one convenience fee of $1.95.
There is no charge for parents to sign their students up with PayPAMS in order to check student balances or view cafeteria purchases.
You may also pay for meals by bringing cash or check to the Bear Creek Office. Please include your student's ID number with each payment.
PTA Information:


BCE PTA Members Appreciation Event!
It's February, which can only mean 1 thing: Love is in the air!
And what does the Bear Creek PTA love most of all? It's Members! That's why we want to do something just for you!!
BCE PTA will be raffling off THREE gift baskets!
All you have to do to enter is be a current member of the Bear Creek PTA.
If you are already a member you are already entered to win!
Not yet a member? No worries! Sign up by February 13th to be entered. Sign up online at http://bearcreekpta.org/Page/Membership/Membership or by filling out a paper registration form which can be found at the BCE office.


Prospective New EAP Families Q&A:
The HiCap Parents Council is partnering with the NSD HiCap Department to offer two Q&A sessions for prospective new EAP families. These are info sessions for parents who are deciding whether to accept EAP placement for their students for next school year.
Monday, Feb. 10 at 7pm at Bothell High School, Northshore Performing Arts Center, 18125 92nd Avenue NE, Bothell
Wednesday, Feb. 12 at 7pm at Northshore School District Administration Building, Board Room 3330 Monte Villa Parkway, Bothell
HiCap Family Game Day:
NSD HiCap Parents Council invites you to Family Game Day from 2:30 to 5:00 p.m. on Sunday, Feb. 9. There will be tons of fun for the whole family. Please bring all your favorite games to play with other families or come learn a new game. There will be games for all ages and skill levels. One family ticket admits a family of up to 5, and you can arrive at any time during the event.
Click here for tickets: https://www.eventbrite.com/e/nsd-hicap-family-game-day-and-lecture-by-austina-de-bonte-tickets-87630494167
Also, concurrently, our own nationally renowned HiCap advocate Austina De Bonte will also be giving a lecture, "What Parents Need to Know About Smart Kids," from 2:30 to 4:30 p.m. for an additional ticket price.


Bear Creek Science Fair:
Save the date for Bear Creek Science Fair! It'll be on Friday, March 13, 2020.
This event is not to be missed! It is a wonderful opportunity for students to showcase their own science experiments along with an evening filled with hands on learning and experimentation.
To Enter: Go to our Bear Creek PTA website and print the registration form by clicking on the Science Fair flyer. http://bearcreekpta.org
Students are welcome to do the experiment solo or with up to 3 friends.
Please submit entry forms by Friday, February 28th.


Events & Info from Other PTAs:
Timbercrest Middle School PTA:
Screenagers, Part 2- Screenagers NEXT CHAPTER: Uncovering Skills for Stress Resilience
Plan to join us for a showing of Screenagers, Part 2. "Filmmaker and physician Dr. Delaney Ruston takes the conversation around screens and teens to the next level with Screenagers NEXT CHAPTER: Uncovering Skills for Stress Resilience—a film that examines the science behind teen's emotional challenges, the interplay of social media, and most importantly, what can be done in our schools and homes to help them build crucial skills to navigate stress, anxiety, and depression in our digital age." -Screenagers website.
We will be meeting Wednesday, February 12th, from 7-8:30 p.m. in the Timbercrest cafeteria for the screening and a short debrief/discussion afterward. A short PTSA meeting will follow, covering time sensitive business. Light refreshments will be served both before and following the screening. It's an evening you don't want to miss!


Cottage Lake Elementary PTA:
You're invited to a Cottage Lake PTA Meeting.
Date: Tuesday, February 11th
Time: 7:00 PM - 8:00 PM
Place: Cottage Lake Elementary Library
There will be pizza & free childcare provided