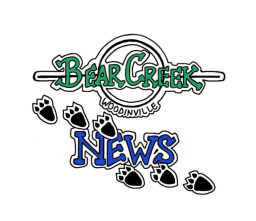 Upcoming Dates:

3/2 2nd Grade Field Trip to Meydenbauer Center
Math Olympiad, 3:55 - 4:45pm
3/3 Chess Club, 4:00pm - 5:20pm
3/4 Early Release Wednesday, 2:20pm
3/5 Foreign Language Classes, 3:55pm - 4:55pm
3/6 Chorus Practice, 3:50pm - 4:30pm
3/9 Math Olympiad, 3:55 - 4:45pm
3/10 Chess Club, 4:00pm - 5:20pm
Timbercrest Middle School Parent Night, 6:00pm-8:15pm
3/11 Early Release Wednesday, 2:20pm
3/12 Foreign Language Classes, 3:55pm - 4:55pm
3/13 PTA Stem Fair, 6:00 - 8:00pm
Chorus Practice, 3:50pm - 4:30pm
4th Grade to Olympia Field Trip
3rd Grade to MOHAI Field Trip

Design Bear Creek's Yearbook Cover - Entries Due March 16th!
Yearbook cover contest information will be coming home with students today.

Submit Your Pictures for the Yearbook/End-of-Year Slideshow:
If you have pictures you would like to submit for the yearbook (candids, school events, field trips, etc.), please send them to https://mailfile.nsd.org/filedrop/nbrenengen@nsd.org

Camp Cedar Springs:
5th Camp Cedar Springs T-shirt/Sweatshirt orders are due by March 4.
Want to volunteer? Please let your child's teacher know by March 15 if you are interested in attending.
To families of current 5th grade students that will be going to Timbercrest:
Save the dates! Timbercrest will be hosting a Middle School Preview Night for parents/guardians of current 5th grade students on Tuesday, March 10. 6:00pm-8:15pm.
Our purpose is to introduce you to middle school at Timbercrest. The evening will include a welcoming address by Kristi Hannigan, TMS principal; and 4 different sessions with information to familiarize you with the changes that will take place as your student moves from elementary to middle school. Our counselors will cover on-line course registration and counseling services, and administrators will present information about academics, athletics and activities. There will also be an AAP session and Special Education/504 session.
Your students will be visiting Timbercrest the beginning of March
· Thursday, March 5 - Sunrise Elementary - registration visit 10:00am - 12:30pm
· Friday, March 6 – Bear Creek and Cottage Lake Elementary - registration visit 10:00am - 12:30pm
· Monday, March 9 - Hollywood Hill Elementary - registration visit 10:00am - 12:30pm
· Tuesday, March 10 – EastRidge Elementary - registration visit 10:00am - 12:30pm
We look forward to meeting you and your students in the coming weeks!
PTA Information:
Bear Creek Elementary Golden Acorn (Volunteer of the Year) and Golden Apple (Outstanding Educator) Awards.
Each year the PTA recognizes those who work extra hard to make Bear Creek Elementary such a great school and learning environment for our kids.
If you would like to nominate an outstanding Bear Creek Elementary educator please send an email with the subject line Golden Apple 2020 to Allison Valente (ankv1979@gmail.com).
Nominations should contain the individuals full name and a short paragraph describing their contributions to Bear Creek Elementary School.
NOMINATIONS ARE DUE FRIDAY MARCH 20th at 5pm.
Johnny Appleseed: Auditions & Performances Only One Month Away!
Audition: Monday, March 23
Performances: Saturday, March 28 at 3 PM & 5:30 PM at BCE Gym
Opportunity for Prospective NFP Parents
Are you thinking about enrolling a child in the Northshore Family Partnership (NFP) next year? Prospective NFP parents are invited to participate in a live-streamed workshop titled Parenting Neurodiverse Children, Navigating education and life with your differently wired child. The workshop is hosted by Debbie Reber, founder of Tilt Parenting and author of the book Differently Wired: Raising an Extraordinary Child in a Conventional World. It will take place March 20, 2020. If interested, please email president@nfpparents.org.