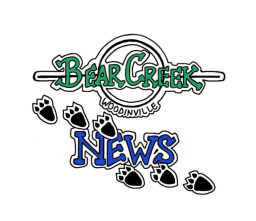 Upcoming Dates:
Closed for Mid-Winter Break 2/17 - 2/21
2/24 Math Olympiad, 3:55 - 4:45pm
2/25 Chess Club, 4:00pm - 5:20pm
2/26 Early Release Wednesday, 2:20pm
2/27 5th Grade Trip to Olympiad, 7:45am - 3:00pm
Foreign Language Classes, 3:55pm - 4:55pm
2/28 Chorus Practice, 3:50pm - 4:30pm

3/2 2nd Grade Field Trip to Meydenbauer Center
Math Olympiad, 3:55 - 4:45pm
3/3 Chess Club, 4:00pm - 5:20pm
3/4 Early Release Wednesday, 2:20pm
3/5 Foreign Language Classes, 3:55pm - 4:55pm
3/6 Chorus Practice, 3:50pm - 4:30pm
2020 Bear Creek Elementary Track and Field
Take your mark, get set, go! Our 2020 Track and Field season for students in grades 3-5 begins this April, following spring break. Our practices will be on Mondays & Tuesdays from 3:50- 4:50. At dismissal, students should report to the gym. After practice, students will be picked up at the parent pickup area. Our Practice dates are: 4/13, 4/14, 4/20, 4/21, 4/27, 5/4, 5/11, and 5/18. Our meet dates are: 4/28, 5/5, 5/12 (Home Meet @Cottage Lake Elementary), 5/19 (Junior Olympics @ Woodinville HS). Parents are responsible for transportation to and from meets, and must stay at the meets. The participation fee is $35 per student. Those who qualify for free and reduced priced lunch may request a partial scholarship. Please register online at https://schoolsales.nsd.org. The school, coaches or office staff will not handle registration and/or payment. Information on elementary sports, including meet schedules and how to pay the registration fee, is available on the district website at http://nsd.schoolwires.net/Page/6977 or contact the school district receptionist at 425-408-6000.
Leota Middle School 5th Grade Parent Night:

Leota will host a Parent Preview Night on February 26 for all parents of current 5th graders slated to feed to Leota. Our preview night is designed to help parents better understand the middle school setting and to make informed decisions about our course offerings. The night will run from 6:30-8:00 p.m., with optional pre-sessions beginning at 6:00. Our opening ceremony will begin promptly at 6:30 p.m. in the gym with opening remarks along with details about the evening. Spanish translation will be available.

Please plan ahead for parking as it often bottlenecks getting into Leota and the main stoplight on Woodinville-Duvall Road can often cause delays. We have three parking lots available (in front of the school along 168th Avenue NE, to the north of the school along NE 195th Street, and behind the school near the track). Additionally, we will have our overflow parking open along 168th Avenue NE, closer to Woodinville-Duvall Road to the south of the school.

Canyon Park Middle School Incoming 6th Grade Parent Night
Wednesday March 18th.
7-9 PM in the main gym
AAP parent info meeting 6:30-6:50 in the little theater
IEP parent info meeting 6:30-6:50 in the library
Skyview Middle School Important Information
If your child will be going to Skyview Middle School for the 2010-2021 academic year, we have some important information for you. First, please join us on Wednesday, March 18th from 7:00 - 8:00 pm for our introductory Parent Night. Topics will include Registration, Scheduling, the 6th Grade Wheel, Challenge Courses, the Block Schedule, and more. Students should not attend this event.

Timbercrest Middle School 5th Grade Parent Night will be March 10th. More details to follow.

Meet & Greet with Dr. Reid:
We are excited to welcome Dr. Reid to Bear Creek on Friday, February 28th. Her visit will include:

Parent Meet & Greet in our school library (8:50 - 9:20am)
"Breakfast Club" where she will meet with several students and Mr. Keeler over morning treats.
Classroom visits where she and Mr. Keeler will visit all of our classrooms to learn with our students and staff.
PTA Information:
‼️VOLUNTEERS NEEDED‼️

The Bear Creek PTA, in partnership with the Northshore School Foundation and the NFP, will be holding a Diversity Awareness Fair on February 27th & 28th.

Students in grade 2nd – 5th will have the opportunity to experience different challenges that their peers with disabilities may encounter. They will rotate through stations and engage in activities meant to replicate the following disabilities:

1. Vision 👀
2. Speech & Hearing 🗣️
3. Motor Planning🚶
4. Empathy 🥰
5. Reading/Writing 📖

(Kindergarten and 1st grade classes will participate in their classroom through read aloud books and class discussion.)

HOWEVER, we can't make this program happen without help from volunteers. Check out the Sign-Up Genius below ⬇️⬇️ to help run one of the stations.

https://m.signupgenius.com/#!/showSignUp/20f0c48a4aa2eabfd0-diversity/69084306

Volunteering during the DAF is a great and easy way to give back to the kids in the BCE Community! Each station has instructions on what to do, and there are great moments to witness as kids find empathy and greater understanding for people different than themselves.

Advocacy Week 2020
February 24th – 28th, 2020
Part of Bear Creek PTA's Mission is to Advocate for students. During the upcoming Advocacy Week is the perfect time for PTA Members to get involved in advocacy as well!
WSPTA will be asking it's members to take action from their home or their phone throughout the week. To participate, subscribe to the WSPTA Action Network to stay informed. Follow this link to subscribe: https://actionnetwork.org/forms/subscribe-to-wsptas-action-network-group
Don't forget to like & follow our Facebook page @PTABearCreek as we will be posting more details about Advocacy Week 2020 and how you can get involved as they become available.
To learn more about the WSPTA legislative priorities visit the WSPTA Advocacy page at: https://www.wastatepta.org/focus-areas/advocacy/

AmazonSmile PTA Donations

Do you currently have AmazonSmile set to donate to Bear Creek PTA? Bear Creek PTA will be closing at the end of this year and is no longer fundraising. Please switch to donating to another school's PTA - either elementary, middle, or high school. Thank you!



Bear Creek Science Fair
Save the date for Bear Creek Science Fair! It'll be on Friday, March 13, 2020.
This event is not to be missed! It is a wonderful opportunity for students to showcase their own science experiments along with an evening filled with hands on learning and experimentation.
To Enter: Go to our Bear Creek PTA website and print the registration form by clicking on the Science Fair flyer. http://bearcreekpta.org
Students are welcome to do the experiment solo or with up to 3 friends.
Please submit entry forms by Friday, February 28th.

Events & Info from Other PTAs:

Timbercrest PTA

Timbercrest is looking for volunteers for a couple of events coming up in March. All the events are for incoming 5th graders.

March 5th - 10th, incoming 5th grade TMS visit. TMS will be serving lunch from 11-12pm each day. TMS will provide pizza, fruit, cookie and water to drink.

March 5th: Sunrise Elm.
March 6th: Bear Creek/Cottage Lake Elm.
March 9th: Hollywood Hills Elm.
March 10th: East Ridge Elm.

Volunteers can contact Tarah Fleming-Jones attarahlavin@hotmail.com if they are interested.